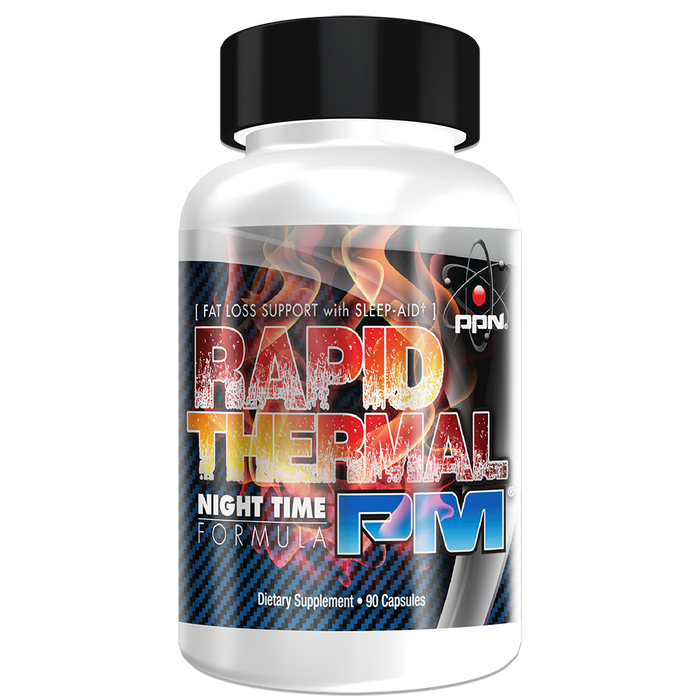 Rapid Thermal PM® - LEVEL 1-3 (45 Day Supply)
Original price
$49.99
-
Original price
$49.99
What is Rapid Thermal PM?
Rapid Thermal PM® is a "Night Time" Fat Loss Formula with mild natural sleep aids. It is designed to promote fat loss in the evening and while you sleep. It also helps prevent late night cravings.

Rapid Thermal® PM is our Maximum Strength Night Time fat loss product. Because it is a non-stimulant formula, it is the ideal compliment to all of our Daytime Formulas (Levels 1-3).

Its main ingredients 5-HTP (5-Hydroxtryptophan), Guggulsterones, L-Carnitine, L-Tyrosine, Gymnema Sylvestre and Valerian Root are combined together to produce the most comprehensive night time fat loss product available.

5-HTP (5-Hydroxtryptophan), has been shown in clinical trials to contribute to considerable weight loss and cause a significant decrease in food intake, especially carbohydrates. 5-HTP is the immediate precursor to serotonin. Serotonin plays an important role in regulating appetite, body temperature, mood, and the secretion of various hormones. 5-HTP has also been shown to induce the release of Corticotropin Releasing Factor (CRF), which increases energy expenditure while simultaneously decreasing energy intake. Studies also indicate that 5-HTP supplementation can cause a significant increase in the hormone leptin. Leptin plays an important role in the regulation of appetite and other physiological processes.

Guggulsterones are used to help boost your metabolism. They have been shown in current research to be very effective at increasing your body's ability to burn fat. They accomplish this by increasing levels of your main Thyroid hormones. Thyroid hormones are directly involved in human metabolism. Increased thyroid levels cause the body to burn more fat. Consequently, decreased thyroid levels can cause the body to store more fat. Typically, when a person is dieting, the body reacts by decreasing thyroid levels which slows down the metabolism. Thus, increasing your thyroid levels can dramatically help you burn fat! Guggulsterones have also been shown to decrease LDL cholesterol.

L-Carnitine is another important ingredient. Carnitine is an essential co-factor in the catabolism of fats as an energy source.

It also contains Chromium Polynicotinate an essential trace mineral that improves your body's ability to regulate sugar (carbohydrate) metabolism. Chromium Polynicotinate (niacin-bound chromium), has been shown to be more absorbed and retained than other forms of chromium, including chromium picolinate.

L-Tyrosine is an amino acid that is a precursor for norepinephrine and epinephrine, both of which play important roles in fat burning. It is also a precursor of serotonin and CCK (cholecystokinin), which regulate appetite and increase muscle glucose uptake.

Valerian Root is used as a natural mild sleep aid. It has also been shown to have a stabilizing effect on the gastrointestinal and respiratory tracts. Its ability to help relax the central nervous system, promote feelings of calm, decrease levels of anxiety and stress, and enhance sleep are known all over the world.

Glucomannan is a dietary fiber derived from the Amorphophallus Konjac root. It can provide many dieting and health advantages. It has been shown to significantly reduce the appetite which can help prevent cravings and overeating. Glucomannan can also help control the insulin response to high glycemic carbohydrates and may also help remove fat from the body.
Gymnema sylvestre is used to help control blood sugar levels and reduce sugar cravings. Some studies have shown that it significantly decreases fat digestibility. It is also noted for lowering serum cholesterol and triglycerides.

Why Use Rapid Thermal PM?
If your goal is to lose a significant amount of weight, you want to burn fat 24 hours a day and the average weight loss products are not enough, then the Rapid Thermal® 24 hour system is the answer.

Benefits of using Rapid Thermal PM®

• Lose Fat
• Increase your Metabolism 24 hours a day
• Reduce Late Night Cravings for Sweets & Carbs
• Mild Sleep Aids to Help you Relax and get the rest you need

Rapid Thermal PM® is the #1 selling "Night Time" fat loss formula. It has been scientifically engineered to be the most effective 24 hour fat loss supplement program on the market.
SUGGESTED USE:
As a dietary 
supplement
, take one-three capsules before bedtime only.
For best results, use as part of a reduced fat diet and exercise program.
Do not exceed three capsules per day.
Warning Concerning California Residents: This product may contain chemicals known to the State of California to cause cancer and birth defects or reproductive harm.
 †These statements have not been evaluated by the Food and Drug Administration. These products are not intended to diagnose, treat, cure or prevent any disease. Please consult your physician. Testimonials and products reviews reflect individual people's unique experiences and opinions and should not be viewed as professional advice. Individual results may vary.