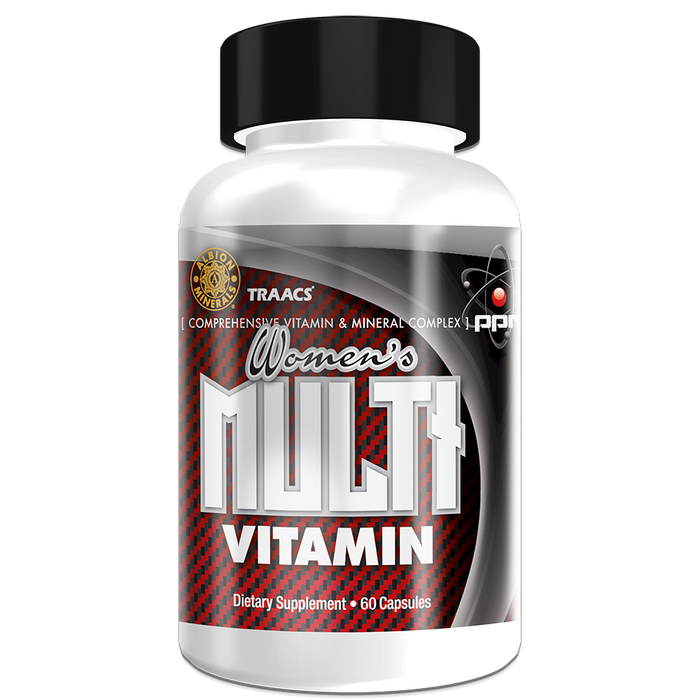 Women's Complete Multi Vitamin™ (30 Day Supply)
Original price
$19.95
-
Original price
$19.95
What is PPN's Complete Multi Vitamin?
PPN's Complete Multi-Vitamin is a "High Potency" comprehensive blend of over 35 Vitamins, Minerals and Antioxidants. It's specifically developed to compliment an individual's food intake, in order to provide for the increased nutritional requirements when pursuing fitness goals, without the additional calories from food.
Why use PPN's Complete Multi Vitamin?
PPN's Complete Multi Vitamin contains only the highest quality ingredients available. Our comprehensive blend and potencies are unmatched in similar products. We use only Albion® Brand Chelated Minerals, the world leader in mineral nutrition. In fact, this is a Certified Albion® "Gold Medallion Product" formulation. This certifies to our customers that the minerals are verified organic amino acid chelates or organic acid mineral complexes, provided by Albion® exclusively.
Albion amino acid chelates are unique because they are:
Hypoallergenic
Vegetarian and Vegan friendly
BSE-free
Non-GMO
Nutritionally Functional
Chelated Minerals
Chemically validated (FTIR finger printed)
Clinically researched
Gluten Free
The PPN Difference
Many companies claim to have the highest quality and purest products, but how do you know if you are truly getting what they claim? Unless it says Pure Performance Nutrition on the label you simply do not know what you're getting. While many Multi Vitamin products look alike, their ingredients often differ in quality, and potency. At PPN we use only the highest quality ingredients available. PPN's Complete Multi Vitamin is manufactured in a cGMP, NSF Safe for Sport Certified facility. It is lab tested to guarantee quality, purity, and potency. PPN is a brand you can trust...You Can Bet Your Body On It!
*Albion® TRAACS™ (US Patent #7,144,737)
*Albion and TRAACS are Registered Trademarks of Albion Advanced Nutrition, Inc.
SUGGESTED USE:
Regular Use:
As a dietary supplement take 1-2 capsules daily with food.
While Pursuing Fitness Goals:
As a dietary supplement take 2-3 capsules daily with food (1-2 with a.m. meal and 1-2 with p.m. meal).
Warning Concerning California Residents: This product may contain chemicals known to the State of California to cause cancer and birth defects or reproductive harm.
 †These statements have not been evaluated by the Food and Drug Administration. These products are not intended to diagnose, treat, cure or prevent any disease. Please consult your physician. Testimonials and products reviews reflect individual people's unique experiences and opinions and should not be viewed as professional advice. Individual results may vary.